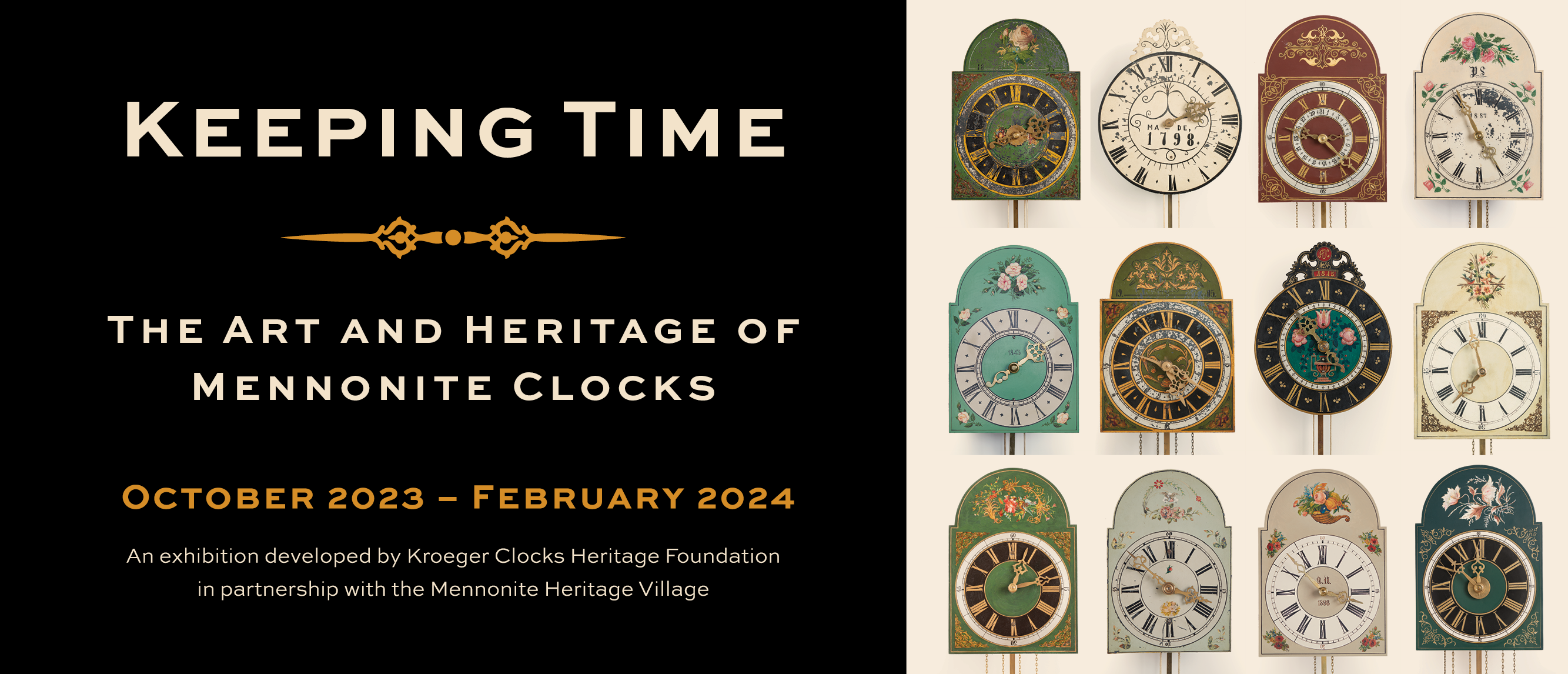 Winnipeg, MB: October 23, 2023 – The Manitoba Museum will be a temporary home to a beautiful and engaging exhibition developed by the Kroeger Clocks Heritage Foundation in partnership with the Mennonite Heritage Village.
Keeping Time: The Art and Heritage of Mennonite Clocks provides an in-depth look into the craft and art of Mennonite clocks made in Europe and transported by immigrants to the Americas over the last two centuries. Beautiful in and of themselves, each clock also has an important story to tell about its owners and their experiences of migration.
"Several clocks featured in this exhibition are on loan from family homes, where their ticking and chiming connects present-day owners to their ancestors. Others are loaned from museum collections, where they are preserved for their cultural value," says Alexandra Zeitz of the Kroeger Clocks Heritage Foundation, who is herself a descendant of Mennonite clockmakers.
For centuries, Mennonite clockmakers honed their craft to produce iconic clocks that brought beauty and structure into homes and communities. Today these timepieces carry emotional meaning. They survive as cultural representations and witnesses to the social and political upheaval experienced by their makers and owners. These clocks are now found around the world, wherever there is a Mennonite diaspora.
"These clocks were both beautiful and functional, but most importantly, they acted as symbols of family stability. They were taken along during Mennonite migrations to retain and transplant that social continuity," says Roland Sawatzky, Curator of History at the Manitoba Museum.
This temporary exhibition features 15 Mennonite clocks, made between the late 1700s and early 1900s and transported to Manitoba by Mennonite immigrants over many decades. These beautiful timepieces were made in Mennonite workshops in Ukraine, and represent Mennonite migration stories, mechanical ingenuity, folk art, and family life.
Members of the media are invited to preview the exhibit in
The Manitoba Museum Discovery Room • Thursday, October 26 
Doors Open: 6:30 pm;
Welcome, Speeches & Refreshments: 7:00-7:30 pm;
Exhibit Viewing: 7:30-9:00 pm
Keeping Time: The Art and Heritage of Mennonite Clocks, will open to the public on October 27, 2023 in the Manitoba Museum's Discovery Room. It will be on display until February 2024.  Exhibit admission is included in General Admission to the Museum Galleries.
-30-
Media Contact: 
Brandi Hayberg
Manager of Marketing & Communications
204-988-0614
[email protected]