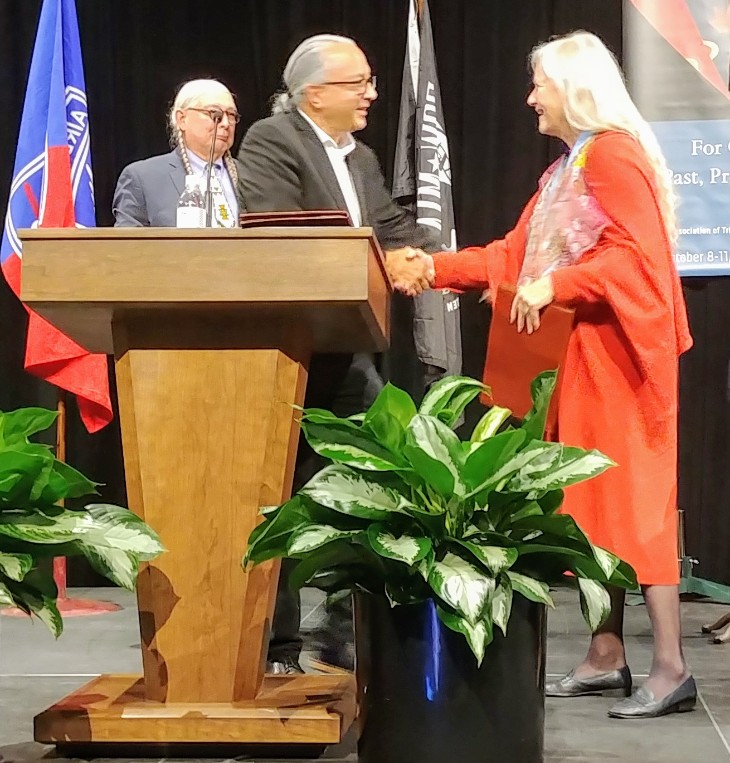 Winnipeg, MB (October 10, 2018): The Manitoba Museum has received the International Guardians of Culture and Lifeways Outstanding Project by a Non-Native Organization award from the Association of Tribal Archives, Libraries, and Museums (ATALM) for its Spirit Lines education project. As a part of the 2018 International Conference, the award (a medallion and certificate) was presented today to Dr. Maureen Matthews, the Manitoba Museum's Curator of Cultural Anthropology, by Walter Echo-Hawk, Board Chair for ATALM. Spirit Lines, an outreach project with two Canadian First Nations communities, was a collaborative and innovative initiative, merging Indigenous heritage and museum expertise to preserve part of a cultural history that may have otherwise been lost.
"The Manitoba Museum is honoured to be the recipient of this prestigious international award," says Claudette Leclerc, Executive Director and CEO of the Manitoba Museum. "This award affirms the importance of collaboration and connection with Indigenous people as museums work to build relationships with communities whose collections we hold in trust."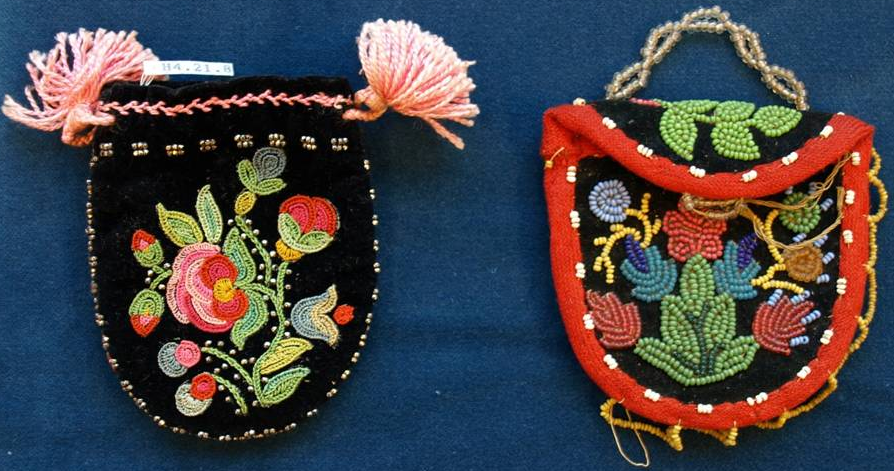 The Spirit Lines project was conceived by Dr. Matthews who discovered a 200-page binder containing oral history transcripts in the Manitoba Museum's holdings that had been collected by the late Anishininni artist Jackson Beardy while he was employed at the Museum in the early 1970s. The idea of returning these stories to the communities where Jackson Beardy first recorded them became the inspiration for the Spirit Lines project. Heritage Canada's Museum Assistance Program funded the creation of education kits for schools in Garden Hill First Nation, Jackson Beard`s home reserve, and Norway House First Nation.
The Spirit Lines project privileged community collaboration and creative working relationships with community leaders including Elders, teachers and school administrators. Richard Laurin, the Education Kit Developer, worked with Byron Beardy, Jackson Beardy's son, to engage community experts and Elders. Partners in the Spirit Lines project include David Swanson, Superintendent of Frontier School Division; David Flett, Director of Education at Garden Hill Education Authority; David Williamson, Dean of Education at University College of the North, and many community members who read stories, translated and transcribed texts and replicated artifacts.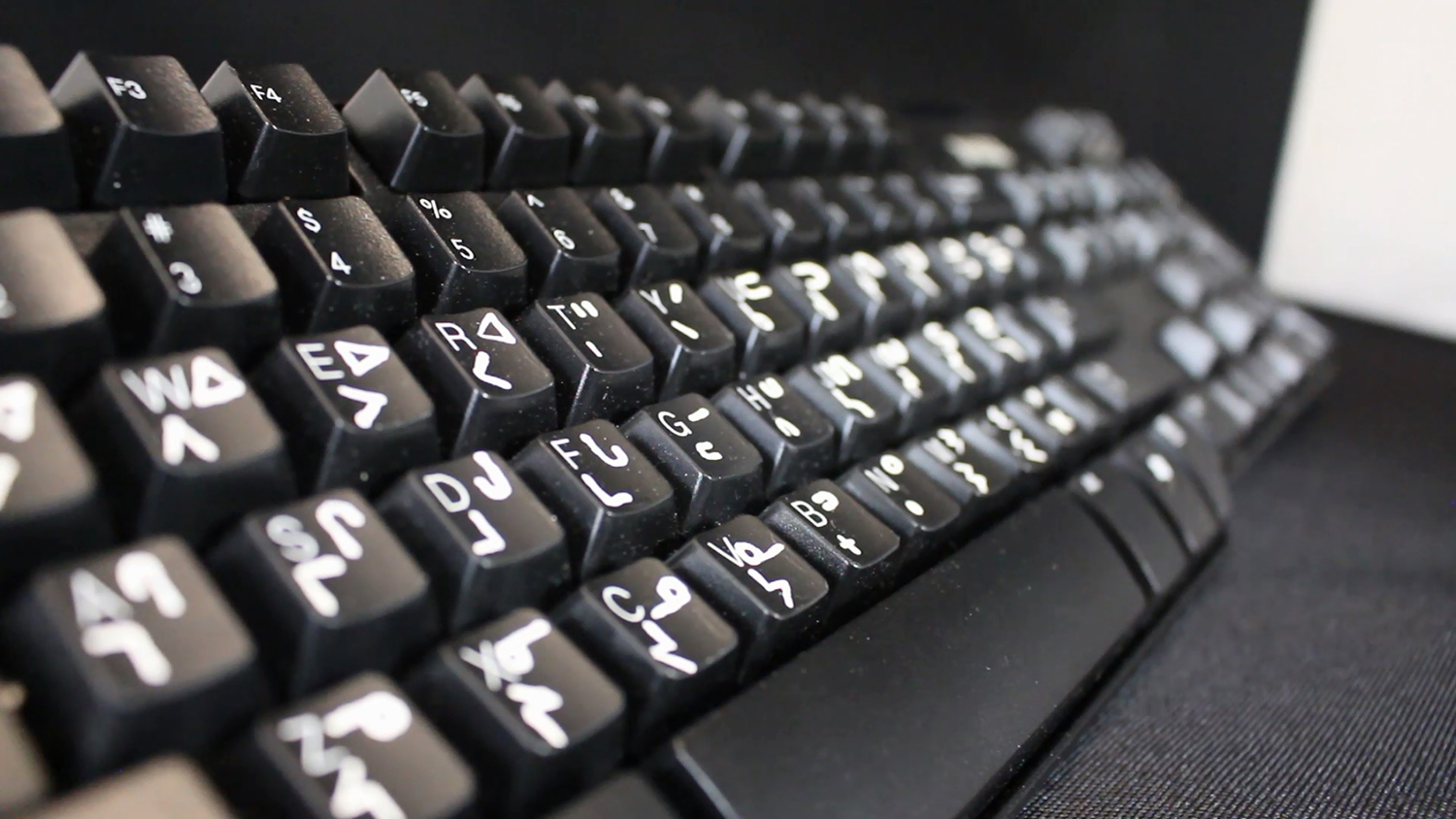 The kits contain a wide array of materials ranging from audio recordings voiced by community members and replica artifacts created by local artisans to instructions for making such traditional items as snowshoes and birch bark baskets. In addition, five bilingual publications provide educational materials to facilitate local language teaching. These include a Cree dictionary and transcriptions of the kit's oral histories with side-by-side translations in English, Ininiwag or Anishininiwag languages in English orthography and syllabics. A unique feature of the Spirit Lines project is the inclusion of Unicode syllabic keyboards, enabling teachers to digitize syllabic lesson plans and communicate across computer networks using Ininiwag and Anishininiwag syllabics.
"The Spirit Lines project was an opportunity to use our collections and expertise to highlight the oral traditions, artifacts, and languages of Norway House and Garden Hill First Nations," says Dr. Matthews. "Working collaboratively with Indigenous communities, the Manitoba Museum has provided a rich cultural resource for Indigenous teachers, bringing the oral histories collected by Jackson Beardy back to life for the students of today and making them available for generations to come."
In November 2017, the Manitoba Museum Spirit Lines project also received the Governor General's History Award for Excellence in Museums: History Alive! presented by Governor General of Canada Julie Payette. This award recognizes institutions that demonstrate excellence in the presentation, preservation, and interpretation of Canadian history.
ATALM is an international non-profit organization that maintains a network of support for Indigenous programs, provides culturally relevant programming and services, encourages collaboration among tribal and non-tribal cultural institutions, and articulates contemporary issues related to developing and sustaining the cultural sovereignty of Native Nations. Established in 2007, the awards program identifies and recognizes organizations and individuals who serve as outstanding examples of how Indigenous archives, libraries, and museums contribute to the vitality and cultural sovereignty of Native Nations.