Thank you for your interest in career and volunteer opportunities at The Manitoba Museum! The Museum is a unique and exciting place to work and volunteer.
Careers at the Manitoba Museum
We employ approximately 40 full-time and 25 part-time staff. In addition, we often have temporary or term employees working on various programs and projects supported through grant funding. We accept and keep resumes for 6 months should opportunities become available in your field of interest and qualifications. 
The Manitoba Museum is committed to employment equity and welcomes diversity in the workplace. We thank all job applicants for their interest; however, only those being considered for an interview will be contacted. 
Join our team!
What's it like to be a Visitor Experience Associate?
What's it like to be a Science Communicator?
Volunteering at the Manitoba Museum
Volunteering: It's Fun!
Hundreds of volunteers assist the Manitoba Museum in any given year. The minimum age to volunteer is 14; there is no upper limit. The benefits for volunteers include acquiring new skills, putting learning into practice, experiencing an exciting work environment, and meeting new people.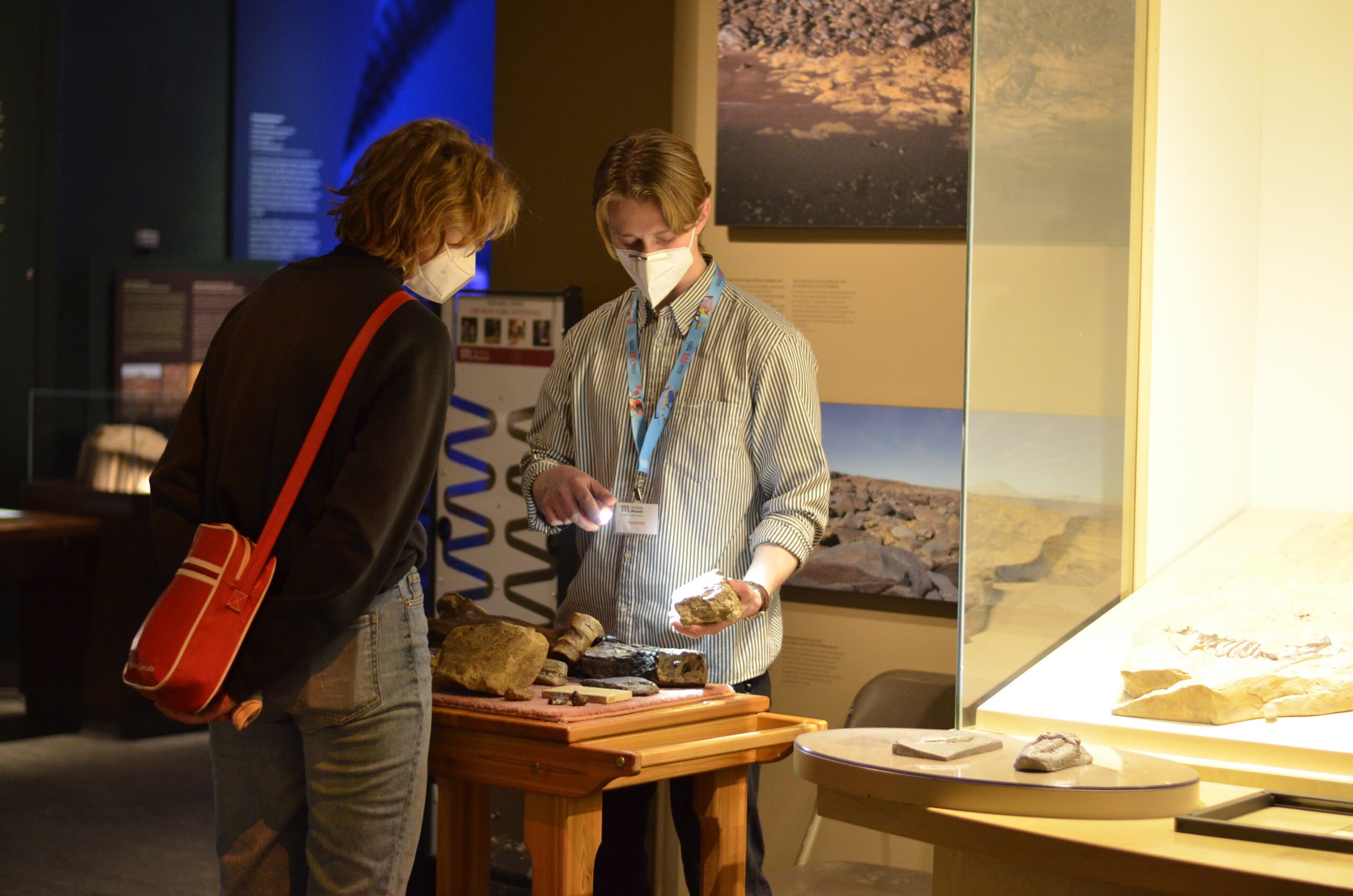 Volunteers provide valuable service to the Museum through direct assistance to staff or the delivery of public programs. Volunteers share their time, abilities, knowledge, and enthusiasm by working with or explaining the Museum's collections to the public.
The work is greatly appreciated by the Museum, and is rewarding and fulfilling to the volunteer. Some of the tasks performed by the volunteers who work with the public include assisting in the Museum Shop, acting as Nonsuch Guides, Science Gallery Hosts, and Gallery Hosts. Volunteers who work behind the scenes make use of their clerical, technical, or scientific skills.
We have opportunities for weekday and weekend volunteers throughout the year in the Museum's public areas, assisting us with a number of interpretive activities. During the week opportunities may be available in 'behind the scenes' areas of the Museum including our human and natural history departments. The Museum is not open in the evenings.
Volunteering at the Manitoba Museum
Qualifications
An interest in the Museum, Planetarium, or Science Gallery;
Completion of the Volunteer Application Form and an interview with the Manager of Volunteer & Employee Relations. References may be required. Applicants under the age of 16 require written consent from a parent or guardian;
Skills specified in the volunteer job description;
Able to make time commitment;
Willing to accept direction and supervision of Museum staff.
Time Commitment
Regular volunteers: Minimum one-half day bi-weekly. Positions requiring extensive training require a one-year commitment.
Occasional volunteers: On call for special, short-term events a few times a year.
A minimum commitment of 40 hours of volunteer time is required in most positions, however because of the extensive training necessary for positions in the Research, Collections & Exhibitions (RCE) areas, longer commitments are required. RCE volunteer positions are only available Monday-Friday during normal business hours.
Benefits of Volunteering at the Manitoba Museum
Opportunity to work with a highly committed team of staff and volunteers in a stimulating work environment;
Orientation and training for all volunteer positions, and opportunities to attend
raining workshops;
Development and reinforcement of employment-related skills;
Free admission to the Museum Galleries, Planetarium, and Science Gallery;
Discount on Museum Shop purchases;
Letter of reference;
Record of your volunteer hours;
Borrowing privileges from the Museum Library;
Parking and bus ticket subsidy available on request.
Current Volunteer Opportunities:
Gallery Host
Do you have a favorite Museum Gallery? Share your knowledge of this gallery with visitors as they make their way through on a visit. Gallery Host positions are flexible and can be done on shorter shifts, making them a perfect option for volunteers with less time available. 
Weekday and weekend shifts available.
Nonsuch
Guide
Help Museum visitors experience what life was like aboard a 17th century sailing vessel through hands-on interpretation of the Fur Trade and the important role the Nonsuch played.
Weekday and weekend shifts available. Commitment: One 3-hour shift per week.
Science Gallery Explainer
Share your interest in science with our visitors in the Science Gallery by helping visitors with the hands-on exhibits.
Weekday and weekend shifts available.
Contact the Museum's Volunteer Office at [email protected] for more information.
Although we try very hard to place all applicants, we select applicants according to our needs and criteria. Should there be a suitable placement for your skills and area of interest we will be in touch to set up an interview.